Examples
Open VKL ships with simple tutorial applications demonstrating the basic usage of the API, as well as full renderers showing recommended usage.
Tutorials
Simple tutorials can be found in the examples/ directory. These are:
Interactive examples
Open VKL also ships with an interactive example application, vklExamples. This interactive viewer demonstrates multiple example renderers including a path tracer, isosurface renderer (using hit iterators), and ray marcher. The viewer UI supports switching between renderers interactively.
Each renderer has both a C++ and ISPC implementation showing recommended API usage. These implementations are available in the examples/interactive/renderers/ directory.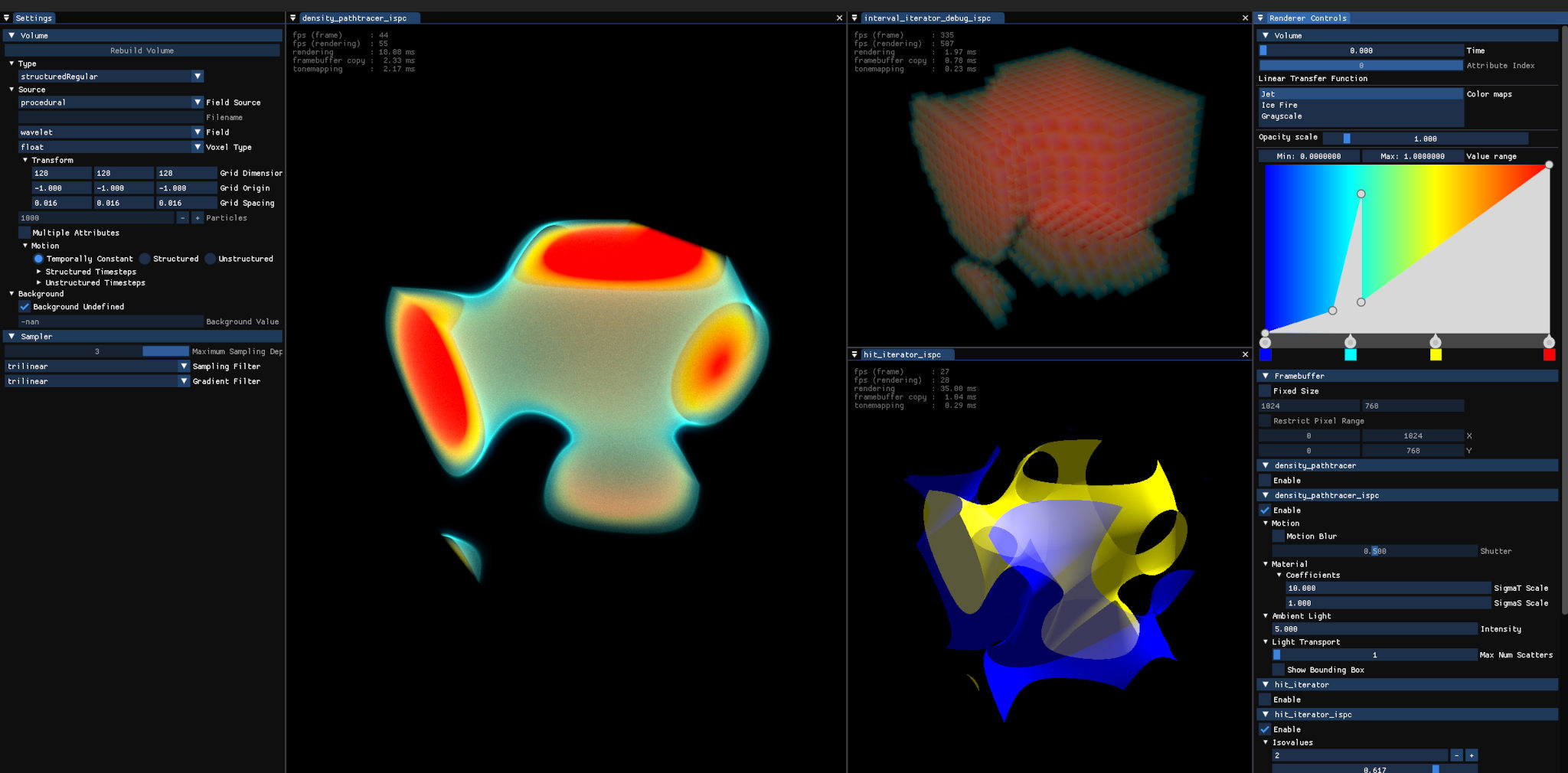 vklTutorial source
For quick reference, the contents of vklTutorial.c are shown below.

      

#include 

<openvkl/openvkl.h>


      

#include 

<stdio.h>


      
      

#if defined(_MSC_VER)


      

#include 

<malloc.h>

   

// _malloca


      

#include 

<windows.h>

  

// Sleep


      

#endif


      
      

void

 demoScalarAPI(VKLVolume volume)
      {
        printf(

"demo of 1-wide API

\n

"

);
      
        VKLSampler sampler = vklNewSampler(volume);
        vklCommit(sampler);
      
        

// bounding box


        vkl_box3f bbox = vklGetBoundingBox(volume);
        printf(

"

\t

bounding box

\n

"

);
        printf(

"

\t\t

lower = 

%f

 

%f

 

%f\n

"

, bbox.lower.x, bbox.lower.y, bbox.lower.z);
        printf(

"

\t\t

upper = 

%f

 

%f

 

%f\n\n

"

, bbox.upper.x, bbox.upper.y, bbox.upper.z);
      
        

// number of attributes


        

unsigned

 

int

 numAttributes = vklGetNumAttributes(volume);
        printf(

"

\t

num attributes = 

%d\n\n

"

, numAttributes);
      
        

// value range (first attribute)


        vkl_range1f valueRange = vklGetValueRange(volume);
        printf(

"

\t

value range (first attribute) = (

%f

 

%f

)

\n\n

"

,
               valueRange.lower,
               valueRange.upper);
      
        

// coordinate for sampling / gradients


        vkl_vec3f coord = {

1.

f

, 

2.

f

, 

3.

f

};
        printf(

"

\t

coord = 

%f

 

%f

 

%f\n\n

"

, coord.x, coord.y, coord.z);
      
        

// sample, gradient (first attribute)


        

unsigned

 

int

 attributeIndex = 

0

;
        

float

 time                  = 

0.

f

;
        

float

 sample   = vklComputeSample(sampler, &coord, attributeIndex, time);
        vkl_vec3f grad = vklComputeGradient(sampler, &coord, attributeIndex, time);
        printf(

"

\t

sampling and gradient computation (first attribute)

\n

"

);
        printf(

"

\t\t

sample = 

%f\n

"

, sample);
        printf(

"

\t\t

grad   = 

%f

 

%f

 

%f\n\n

"

, grad.x, grad.y, grad.z);
      
        

// sample (multiple attributes)


        

unsigned

 

int

 M                  = 

3

;
        

unsigned

 

int

 attributeIndices[] = {

0

, 

1

, 

2

};
        

float

 samples[

3

];
        vklComputeSampleM(sampler, &coord, samples, M, attributeIndices, time);
        printf(

"

\t

sampling (multiple attributes)

\n

"

);
        printf(

"

\t\t

samples = 

%f

 

%f

 

%f\n\n

"

, samples[

0

], samples[

1

], samples[

2

]);
      
        

// value selector setup (note the commit at the end)


        vkl_range1f ranges[

2

]     = {{

10

, 

20

}, {

50

, 

75

}};
        

int

 num_ranges            = 

2

;
        

float

 values[

2

]           = {

32

, 

96

};
        

int

 num_values            = 

2

;
        VKLValueSelector selector = vklNewValueSelector(volume);
        vklValueSelectorSetRanges(selector, num_ranges, ranges);
        vklValueSelectorSetValues(selector, num_values, values);
        vklCommit(selector);
      
        

// ray definition for iterators


        vkl_vec3f rayOrigin    = {

0

, 

1

, 

1

};
        vkl_vec3f rayDirection = {

1

, 

0

, 

0

};
        vkl_range1f rayTRange  = {

0

, 

200

};
        printf(

"

\t

rayOrigin = 

%f

 

%f

 

%f\n

"

, rayOrigin.x, rayOrigin.y, rayOrigin.z);
        printf(

"

\t

rayDirection = 

%f

 

%f

 

%f\n

"

,
               rayDirection.x,
               rayDirection.y,
               rayDirection.z);
        printf(

"

\t

rayTRange = 

%f

 

%f\n

"

, rayTRange.lower, rayTRange.upper);
      
        

// interval iteration. This is scoped


        {
          

// Note: buffer will cease to exist at the end of this scope.


      

#if defined(_MSC_VER)


          

// MSVC does not support variable length arrays, but provides a


          

// safer version of alloca.


          

char

 *buffer = _malloca(vklGetIntervalIteratorSize(sampler));
      

#else


          

char

 buffer[vklGetIntervalIteratorSize(sampler)];
      

#endif


          VKLIntervalIterator intervalIterator = vklInitIntervalIterator(
              sampler, &rayOrigin, &rayDirection, &rayTRange, selector, buffer);
      
          printf(

"

\n\t

interval iterator for value ranges {

%f

 

%f

} {

%f

 

%f

}

\n

"

,
                 ranges[

0

].lower,
                 ranges[

0

].upper,
                 ranges[

1

].lower,
                 ranges[

1

].upper);
      
          

for

 (;;) {
            VKLInterval interval;
            

int

 result = vklIterateInterval(intervalIterator, &interval);
            

if

 (!result)
              

break

;
            printf(
                

"

\t\t

tRange (

%f

 

%f

)

\n\t\t

valueRange (

%f

 

%f

)

\n\t\t

nominalDeltaT "


                

"

%f\n\n

"

,
                interval.tRange.lower,
                interval.tRange.upper,
                interval.valueRange.lower,
                interval.valueRange.upper,
                interval.nominalDeltaT);
          }
      

#if defined(_MSC_VER)


          _freea(buffer);
      

#endif


        }
      
        

// hit iteration


        {
      

#if defined(_MSC_VER)


          

// MSVC does not support variable length arrays, but provides a


          

// safer version of alloca.


          

char

 *buffer = _malloca(vklGetHitIteratorSize(sampler));
      

#else


          

char

 buffer[vklGetHitIteratorSize(sampler)];
      

#endif


          VKLHitIterator hitIterator = vklInitHitIterator(
              sampler, &rayOrigin, &rayDirection, &rayTRange, time, selector, buffer);
      
          printf(

"

\t

hit iterator for values 

%f

 

%f\n

"

, values[

0

], values[

1

]);
      
          

for

 (;;) {
            VKLHit hit;
            

int

 result = vklIterateHit(hitIterator, &hit);
            

if

 (!result)
              

break

;
            printf(

"

\t\t

t 

%f\n\t\t

sample 

%f\n\t\t

epsilon 

%f\n\n

"

,
                   hit.t,
                   hit.sample,
                   hit.epsilon);
          }
      

#if defined(_MSC_VER)


          _freea(buffer);
      

#endif


        }
      
        vklRelease(selector);
        vklRelease(sampler);
      }
      
      

void

 demoVectorAPI(VKLVolume volume)
      {
        printf(

"demo of 4-wide API (8- and 16- follow the same pattern)

\n

"

);
      
        VKLSampler sampler = vklNewSampler(volume);
        vklCommit(sampler);
      
        

// structure-of-array layout


        vkl_vvec3f4 coord4;
        

int

 valid[

4

];
        

for

 (

int

 i = 

0

; i < 

4

; i++) {
          coord4.x[i] = i * 

3

 + 

0

;
          coord4.y[i] = i * 

3

 + 

1

;
          coord4.z[i] = i * 

3

 + 

2

;
          valid[i]    = -

1

;  

// valid mask: 0 = not valid, -1 = valid


        }
      
        

for

 (

int

 i = 

0

; i < 

4

; i++) {
          printf(
              

"

\t

coord[

%d

] = 

%f

 

%f

 

%f\n

"

, i, coord4.x[i], coord4.y[i], coord4.z[i]);
        }
      
        

// sample, gradient (first attribute)


        

unsigned

 

int

 attributeIndex = 

0

;
        

float

 time4[

4

]              = {

0.

f

};
        

float

 sample4[

4

];
        vkl_vvec3f4 grad4;
        vklComputeSample4(valid, sampler, &coord4, sample4, attributeIndex, time4);
        vklComputeGradient4(valid, sampler, &coord4, &grad4, attributeIndex, time4);
      
        printf(

"

\n\t

sampling and gradient computation (first attribute)

\n

"

);
      
        

for

 (

int

 i = 

0

; i < 

4

; i++) {
          printf(

"

\t\t

sample[

%d

] = 

%f\n

"

, i, sample4[i]);
          printf(
              

"

\t\t

grad[

%d

]   = 

%f

 

%f

 

%f\n

"

, i, grad4.x[i], grad4.y[i], grad4.z[i]);
        }
      
        

// sample (multiple attributes)


        

unsigned

 

int

 M                  = 

3

;
        

unsigned

 

int

 attributeIndices[] = {

0

, 

1

, 

2

};
        

float

 samples[

3

 * 

4

];
        vklComputeSampleM4(
            valid, sampler, &coord4, samples, M, attributeIndices, time4);
      
        printf(

"

\n\t

sampling (multiple attributes)

\n

"

);
      
        printf(

"

\t\t

samples = "

);
      
        

for

 (

unsigned

 

int

 j = 

0

; j < M; j++) {
          printf(

"

%f

 

%f

 

%f

 

%f\n

"

,
                 samples[j * 

4

 + 

0

],
                 samples[j * 

4

 + 

1

],
                 samples[j * 

4

 + 

2

],
                 samples[j * 

4

 + 

3

]);
          printf(

"

\t\t

          "

);
        }
      
        printf(

"

\n

"

);
      
        vklRelease(sampler);
      }
      
      

void

 demoStreamAPI(VKLVolume volume)
      {
        printf(

"demo of stream API

\n

"

);
      
        VKLSampler sampler = vklNewSampler(volume);
        vklCommit(sampler);
      
        

// array-of-structure layout; arbitrary stream lengths are supported


        vkl_vec3f coord[

5

];
      
        

for

 (

int

 i = 

0

; i < 

5

; i++) {
          coord[i].x = i * 

3

 + 

0

;
          coord[i].y = i * 

3

 + 

1

;
          coord[i].z = i * 

3

 + 

2

;
        }
      
        

for

 (

int

 i = 

0

; i < 

5

; i++) {
          printf(

"

\t

coord[

%d

] = 

%f

 

%f

 

%f\n

"

, i, coord[i].x, coord[i].y, coord[i].z);
        }
      
        

// sample, gradient (first attribute)


        printf(

"

\n\t

sampling and gradient computation (first attribute)

\n

"

);
        

unsigned

 

int

 attributeIndex = 

0

;
        

float

 time[

5

]               = {

0.

f

};
        

float

 sample[

5

];
        vkl_vec3f grad[

5

];
        vklComputeSampleN(sampler, 

5

, coord, sample, attributeIndex, time);
        vklComputeGradientN(sampler, 

5

, coord, grad, attributeIndex, time);
      
        

for

 (

int

 i = 

0

; i < 

5

; i++) {
          printf(

"

\t\t

sample[

%d

] = 

%f\n

"

, i, sample[i]);
          printf(

"

\t\t

grad[

%d

]   = 

%f

 

%f

 

%f\n

"

, i, grad[i].x, grad[i].y, grad[i].z);
        }
      
        

// sample (multiple attributes)


        

unsigned

 

int

 M                  = 

3

;
        

unsigned

 

int

 attributeIndices[] = {

0

, 

1

, 

2

};
        

float

 samples[

3

 * 

5

];
        vklComputeSampleMN(sampler, 

5

, coord, samples, M, attributeIndices, time);
      
        printf(

"

\n\t

sampling (multiple attributes)

\n

"

);
      
        printf(

"

\t\t

samples = "

);
      
        

for

 (

int

 i = 

0

; i < 

5

; i++) {
          

for

 (

unsigned

 

int

 j = 

0

; j < M; j++) {
            printf(

"

%f

 "

, samples[i * M + j]);
          }
          printf(

"

\n\t\t

          "

);
        }
      
        printf(

"

\n

"

);
      
        vklRelease(sampler);
      }
      
      

int

 main()
      {
        vklLoadModule(

"cpu_device"

);
      
        VKLDevice device = vklNewDevice(

"cpu"

);
        vklCommitDevice(device);
      
        

const

 

int

 dimensions[] = {

128

, 

128

, 

128

};
      
        

const

 

int

 numVoxels = dimensions[

0

] * dimensions[

1

] * dimensions[

2

];
      
        

const

 

int

 numAttributes = 

3

;
      
        VKLVolume volume = vklNewVolume(device, 

"structuredRegular"

);
        vklSetVec3i(
            volume, 

"dimensions"

, dimensions[

0

], dimensions[

1

], dimensions[

2

]);
        vklSetVec3f(volume, 

"gridOrigin"

, 

0

, 

0

, 

0

);
        vklSetVec3f(volume, 

"gridSpacing"

, 

1

, 

1

, 

1

);
      
        

float

 *voxels = malloc(numVoxels * 

sizeof

(

float

));
      
        

if

 (!voxels) {
          printf(

"failed to allocate voxel memory!

\n

"

);
          

return

 

1

;
        }
      
        

// volume attribute 0: x-grad


        

for

 (

int

 k = 

0

; k < dimensions[

2

]; k++)
          

for

 (

int

 j = 

0

; j < dimensions[

1

]; j++)
            

for

 (

int

 i = 

0

; i < dimensions[

0

]; i++)
              voxels[k * dimensions[

0

] * dimensions[

1

] + j * dimensions[

2

] + i] =
                  (

float

)i;
      
        VKLData data0 =
            vklNewData(device, numVoxels, VKL_FLOAT, voxels, VKL_DATA_DEFAULT, 

0

);
      
        

// volume attribute 1: y-grad


        

for

 (

int

 k = 

0

; k < dimensions[

2

]; k++)
          

for

 (

int

 j = 

0

; j < dimensions[

1

]; j++)
            

for

 (

int

 i = 

0

; i < dimensions[

0

]; i++)
              voxels[k * dimensions[

0

] * dimensions[

1

] + j * dimensions[

2

] + i] =
                  (

float

)j;
      
        VKLData data1 =
            vklNewData(device, numVoxels, VKL_FLOAT, voxels, VKL_DATA_DEFAULT, 

0

);
      
        

// volume attribute 2: z-grad


        

for

 (

int

 k = 

0

; k < dimensions[

2

]; k++)
          

for

 (

int

 j = 

0

; j < dimensions[

1

]; j++)
            

for

 (

int

 i = 

0

; i < dimensions[

0

]; i++)
              voxels[k * dimensions[

0

] * dimensions[

1

] + j * dimensions[

2

] + i] =
                  (

float

)k;
      
        VKLData data2 =
            vklNewData(device, numVoxels, VKL_FLOAT, voxels, VKL_DATA_DEFAULT, 

0

);
      
        VKLData attributes[] = {data0, data1, data2};
      
        VKLData attributesData = vklNewData(
            device, numAttributes, VKL_DATA, attributes, VKL_DATA_DEFAULT, 

0

);
      
        vklRelease(data0);
        vklRelease(data1);
        vklRelease(data2);
      
        vklSetData(volume, 

"data"

, attributesData);
        vklRelease(attributesData);
      
        vklCommit(volume);
      
        demoScalarAPI(volume);
        demoVectorAPI(volume);
        demoStreamAPI(volume);
      
        vklRelease(volume);
      
        vklReleaseDevice(device);
      
        free(voxels);
      
        printf(

"complete.

\n

"

);
      
      

#if defined(_MSC_VER)


        

// On Windows, sleep for a few seconds so the terminal window doesn't close


        

// immediately.


        Sleep(

3000

);
      

#endif


      
        

return

 

0

;
      }